Trees can have physical damage and bring danger to your life and property. Keeping them healthy is vital for your safety.
If you have overgrown, dead, damaged or old trees near your house or establishment, be mindful and maintain them regularly.
You can get professional tree care services from Trees Down Under in Avoca Beach. You don't have to get them done by yourself.
Our expert arborists are ready to attend to your needs anytime. We can even remove large trees for you.
We have up-to-date and specialised equipment for any tree removal jobs. Besides, our company follows environmental and safety regulations to make you feel at ease.
At Trees Down Under, we are professionally trained to handle even the most complicated tree removal conditions. We can cut down trees without damaging nearby structures.
Let us do the work and experience top-notch tree care and removal service in Avoca Beach.
Tree Removal Services in Avoca Beach
You don't need to go far just to get a licensed arborist. We are here in Avoca Beach to serve you.
Our team offers premium and reliable tree care and removal services to get rid of your worries. Whether you are a site developer or homeowner, we can help you remove dangerous and unwanted trees.
Here are some of our top-quality tree services in Avoca Beach:
Tree Felling

Landscape Maintenance

Tree Removal

Plant Health Care

Arboricultural Services

Tree Risk Report

Stump Grinding

Green Waste Removal

Tree Pruning

And more!
Our arborists in Avoca Beach specialise in tree care and removal jobs. We inspect, prune, maintain, and remove trees without a hassle.
We can back you up during tree emergencies in Avoca Beach. You can depend on our reliable and expert team anytime.
Besides, we recommend the right solutions to tree-related issues. Our arborists can prepare accurate tree risk reports if you ever need one.
Trust that we can eliminate dead or dangerous trees in your backyard promptly.
Same-Day Tree Removal Avoca Beach
Trees can break during storms or heavy winds. Such difficult times call for tree removal professionals.
If you have storm-damaged trees obstructing your property, it's best to contact Trees Down Under in Avoca Beach for assistance.
We respond to various tree removal requests in and around the area. Our company operates round the clock to address your concerns right away.
Our same-day tree removal service is what you need during tree emergencies. Contact us if you need help!
Why Choose Us in Avoca Beach
At Trees Down Under, we offer top-notch tree care and removal services in Avoca Beach. We are dedicated to rendering our clients the assistance they need.
You can count on us whenever trees get in your way. Don't stress yourself too much about tree-related issues. Our team can back you up in Avoca Beach.
Our company sets our service standards on top of other tree service providers. We are leading tree arborists you can trust anytime.
Experienced Tree Service Company

Highly Competent Arborists

Insured and Licensed Team

Same-day Tree Service

24-Hour Tree Emergency Response Team

Level 5 Arborists

Reliable Arborist Reports

Free Estimates with No Obligation

Competitive Tree Service Pricing

And more!
We are your best tree care and removal specialists in Avoca Beach. Our team aligns our professional services to the local council's rules and regulations.
You can ensure safety when working with our expert arborists. We continue to improve our tree services and reach all suburbs in the Central Coast region.
In Avoca Beach, we are the best company to call for tree care and removal service. Get on the line with our expert team anytime!
We Provide Tree Services To All Central Coast Suburbs
No job too difficult. Call Joe for a fast quote today.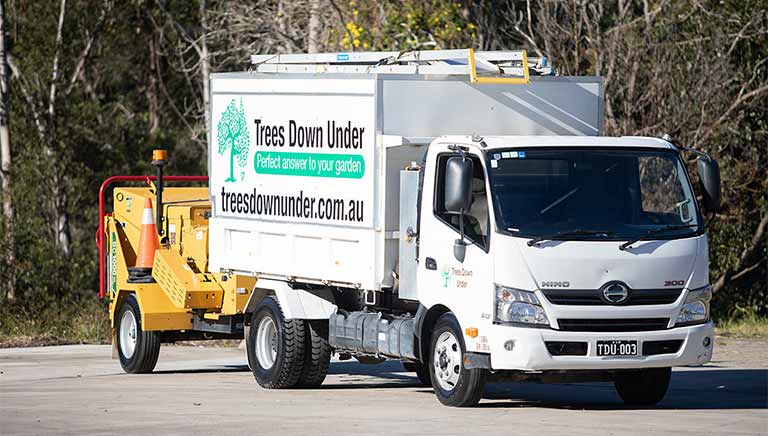 Professional Tree Service that is Safe, Efficient and Affordable. Call Joe Today
What Other People Are Saying About Us
52 reviews on
Darryl Dunger
2. June, 2023.
Joseph and his team performed an amazing job. The tree I had removed was a giant Sydney Blue Gum (approx. 30 metres tall and the same wide.) the whole team, as well as the crane operators, worked in unison and accomplished the goal with great skill. The Quote for the job was very reasonable considering the tree location. I would have no hesitation in recommending Trees Down Under. Once again, thank you Joseph.
Brad Cook
16. March, 2023.
Great service, they know their craft and they are a great bunch of professional guys. We will be using them again. Thank you Joseph
Dontbakdown60
22. February, 2023.
These guys are the best. Great job removing three palms. Excellent communication during the job and great clean up after completion. Highly recommended for all tree issues.🙂
Eternal Cleaning
16. February, 2023.
Extremely happy the service Joseph provided. Would highly recommend them. Job well done guys
Amir Ashrafy
13. February, 2023.
Very professional and on time servic. Amir
Areas we service: all Sydney metropolitan
Upper & Lower North Shore | Eastern Suburbs | Inner city | Inner West | Northern suburbs | Hills district | Ryde