WE COLLECT & REMOVE WASTE FOR YOU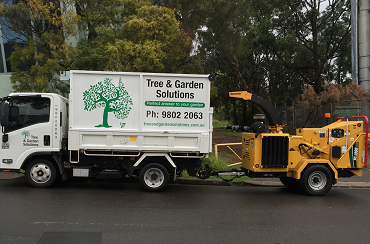 Green waste is one of the most prevalent problems that every homeowner who loves his/her garden has to deal with regularly. Whether a storm has left large tree branches and leaves scattered all over your yard or you've recently carried out a gardening project that has left dirt and debris everywhere, you'll want to deal with them perfectly. But how do you manage, discard this green waste, and make your yard impeccably clean? Well, Trees Down Under can help you deal with garden waste.
You're probably sick of dealing with green waste and want a professional team that can offer the best and most affordable green waste removal services in Sydney. We can help you out. Our team of professionals is skilled, experienced and will not just offer you handy tips but will also help you deal with green waste.
Our Green Waste Removal Services
At Trees Down Under, we fully understand the importance of taking care of your garden. That's why we offer a wide range of green waste removal services that can meet all your garden waste disposal needs.
Although this may seem obvious, we believe that the best way of dealing with green waste is by trying to reduce the amount of waste generated. Generally, lawns contribute a huge percentage of green waste. This is why you should take good care of your lawn while minimising waste generation.
At Trees Down Under, we have skilled and experienced professionals who can take good care of your lawn by properly mowing your lawn and ensuring that the resultant green waste is removed. Again, we can help you plant the right species of trees and grass in your yard so that you do not have to deal with unnecessary green waste.
Do you have a pile of old wood lying around your yard? Old wood can be unsightly in your landscape, let alone being hazardous especially to your loved ones. They are generally known to harbour deadly snakes, something that you don't want in your property.
As such, you can rely on us to remove old wood and give your garden a new lease of life.
Mowing the lawn, pruning the trees and general garden trimmings can be daunting if left to pile up. This can put a dent on your landscape and your hard work of beautifying the yard will go down the drain.
At Trees Down Under, we can help you deal with every aspect of green waste. Whether you want green waste removal in your home, in a golf course or any park, we have the skills and equipment to perfectly and legally handle all types of garden waste removal in an environmentally-friendly manner.
We can remove all types of unwanted green waste including branches, lawn clippings, old leaves, weeds, shrubs, dirt, unwanted soil and many more.
Why You Should Hire Us
When you choose Trees Down Under, you'll be guaranteed to work with a highly reputable company. Some of the advantages that we offer include:
Garden Waste Removal Experts
You'll have highly-skilled and experienced professionals to deal with all types of garden waste removal. Our team will not only provide you with expert advice but will also use their skills, techniques, and the right equipment to ensure that the job is done to perfection and promptly.
As a leader in the industry, we take immense pride in offering the most competitive prices in Sydney. When you call us for our green waste removal services, we will provide you with a free estimate that will make you want to work with us every day.
We always strive to make the world a better place. That's why we always offer environmentally-friendly services. Green wastes are generally recyclable and that's exactly what we'll do!
Do you want your green waste removed today? No problem. At Trees Down Under, we are flexible and work around the clock to ensure that you are served better. Whether you want us to remove your garden waste today, in the morning or at night, we'll be there to do it.
Whether a huge storm has left huge piles of tree branches and leaves scattered all over your property or you've carried out a gardening project and want the debris removed, Trees Down Under can be of great help.
Do not leave your garden cleanups to just anyone. Trees Down Under is here to provide all types of green waste removal in Sydney. Call us on 0475 463 597 and we'll be on our way.
We are the perfect answer to your garden.