A TRIM THAT LOOKS CLEAN, WELCOMING AND STYLISH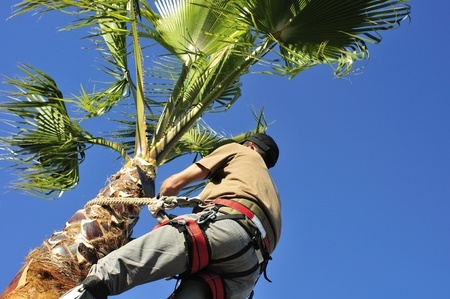 Trees Down Under is your local tree service experts in Sydney. We specialise not only in routine maintenance care for your trees but can also remove trees that are hazardous whether from storm damage or age. We also clear unwanted trees and provide emergency services to make sure that you live in a safe and enjoyable environment at all times. So if your backyard is looking worse, Trees Down Under is exactly who you need to call. Whether it's that overgrown tree or an ugly and hazardous stump in your yard, we'll take care of it all and help you transform your landscape.
Our Tree Services
While cutting down trees isn't generally advisable, there are certain situations where you'll have no choice but to cut it down. Having a tree that's dangerous to you and your loved ones is something that you wouldn't want. Normally, we will send our arborists to inspect these types of trees and come up with the best solution.
As you can imagine, we offer a lot of tree services depending on your situation and what you want. Some of these services are:
Tree removal, planting, crown thinning, pruning, pollarding
Landscape gardening, woodland maintenance
Lawn and ground maintenance, Grass/hedge cutting
Tree risk report
Dry stone walling, decking, fencing, paving
Arboricultural services, plant health care, stump grinding, and deadwood removal
Why Our Tree Services?
At Trees Down Under, we fully understand that you do quite a lot for your family that you don't have to worry about trees in your backyard. This is why we strongly feel that you should take a break and let us professionally deal with your trees.
Given our immense experience in this industry, we employ several certified arborists who will take care of your trees in the right way. When you hire us, you can expect us to provide professional tree services that adhere to the level of practices accepted by the tree care industry as well as the International Society of Arboriculture and Certified Arborists. We are essentially the leading tree removal experts in Sydney.
We Use Specialised Equipment
There is no doubt that tree removal is one of the most dangerous and technical services in the tree care industry. In addition to adhering to the highest levels of safety, we use specialised equipment, training and, of course, experience to ensure that every service is offered accordingly and without any damage to your property or anything else for that matter.
Provision of 24-hour Emergency Services
Several factors such as thunderstorms, storm damage and diseases may not only leave you with hazardous trees in your compound but can also make your landscape unattractive. During such scenarios, you may require an emergency tree service. We fully understand this and that's why we offer 24-hour emergency tree services so that we can offer our services to our customers around the clock.
Even if you call us after hours, we'll respond immediately and ensure that we properly deal with the issue on hand.
At Trees Down Under, we take immense pride in the fact that we not only provide the best tree services in Sydney but also the best customer services. While you'll be quickly forgotten by other companies as soon as they've offered the required services, we offer personal and caring services to all our customers. Not only will we follow up on the services after providing them but we will always ensure that you're completely satisfied with what we offer.
Times are hard economic-wise and we do not want to make things harder for our customers or Sydney residents for that matter. That's essentially why offer some of the most affordable tree services around. When you contact us for our tree services, we'll get back to you with a free estimate and you'll never want to deal with anybody else because our rates are among the best if not the best.
At Trees Down Under, we offer several tree services that will not only leave your landscape looking immaculate but will ensure that you and your loved ones are safe at all times. Our highly experienced experts will guide you in every step, offer consultation services and make sure that you get the best tree services in Sydney.
All you have to do is contact us on 0475 463 597 and we'll take care of all your tree needs. As always, we are the perfect answer to your garden!