TURNING ROUGH TERRAIN INTO FRIENDLY LANDSCAPES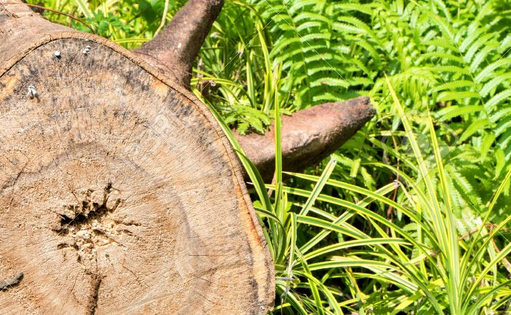 Stumps left after a tree has been removed can be quite frustrating, especially if they have roots that run and stretch throughout your landscape. Stump grinding and removal not only reduce insects, but it also reduces unwanted growth while providing enough room for future landscaping. Stump grinding can be challenging if you do not know how to do it or if you do not have the right equipment. At Trees Down Under, we provide the best stump grinding and removal services in Sydney.
Reasons Why You Might Need Stump Grinding and Removal Services
There are several reasons why you might need our stump grinding and removal services.
When a tree is cut down in your landscape, it always leaves an annoying stump in your compound. Removing stumps may be difficult and laborious especially if you do not have the skills or the right equipment. However, leaving the stumps in your landscape can be hazardous to people walking by. It can also damage your yard, let alone getting in the way of your future building projects.
At Trees Down Under, we have the expertise and a knowledgeable team that can grind and remove these stumps perfectly and carefully without causing any damage to your property.
Leaving a stump in your yard can attract insects. The dead stump will eventually start to decay and will attract insects such as termites and beetles. When you hire us to grind and remove your stump, it will be a nice way to keep these pests away from your yard and home in general.
Stumps Roots are Problematic
Trees are known for their insanely long lifespans. Trees with huge stumps have likely been around for decades if not centuries and their roots may keep growing and spreading under the ground.
These roots can be problematic and can cause cracks on pavements, your patio or even your house! These roots can also get into your pipes and even cause blockages and damage to your sewage and water system. At Trees Down Under, we believe that you do not want these problems and that is why you should seek our stump grinding and removal services.
Stumps can take up Valuable Space in Your Yard
Tree stumps can be a complete nuisance when mowing or weeding your lawn. Again, they often harbour weeds and grass, which tend to grow around them. As we've noted earlier, stumps can also take up valuable space and can get in the way of future building projects.
When you hire us, our stump grinding and removals services will open up your area and give you the freedom to make your landscape nice and much better.
Why You Should Choose Us
At Trees Down Under, we take immense pride as a leading tree removal company in Sydney. Here are some of the reasons why you should choose us.
We Utilise Various Stump Grinding and Removal Methods
Given our experience and expertise, we believe that stump grinding and removal should not be rigid. Instead, it should be a flexible activity but this is only possible if you have the right skills, experienced team, and the right tools. That being said, we use close to about 12 stump grinding and extraction methods to ensure that the stumps are completely and perfectly removed from your landscape.
We can also use alternative methods if grinding is not the best solution.
We've got the Right Types of Equipment
There's no doubt that stump grinding and removal is no easy task and using the wrong tools will make it even harder. As such, we apply the use of the right tools. We use modern stump grinders such as Vermeer grinders or any other equipment that will carry out the job to perfection without causing any damage to your yard.
We are also aware that each stump can pose a unique challenge. While other stumps may be simple to grind, others may cause lots of problems, especially if they are very old. No matter the type of challenge posed, we have the right tools and professionals to get rid of these stumps.
Our team of professionals is not only experienced but is skilled and will take on any challenge posed by any type of stump. They're so skilled that they'll normally take between 30 to 90 minutes to deal with most stumps.
Our Stump Grinding Services are Affordable
At Trees Down Under, we believe that stump grinding and removal should never be costly. That's why we offer price ranges that are affordable and pocket-friendly.
Do you have unsightly stumps in your property and want them removed? Trees Down Under provide the most effective stump grinding and removal services in Sydney. Our highly-experienced and skilled staff members will safely manoeuvre our state-of-the-art equipment to effectively grind and remove any stump in your property.
All you have to do is call us on 0475 463 597 and we'll respond immediately to your needs. It doesn't matter the time of the day; we provide 24-hour emergency tree services.
We are the perfect answer to your garden!