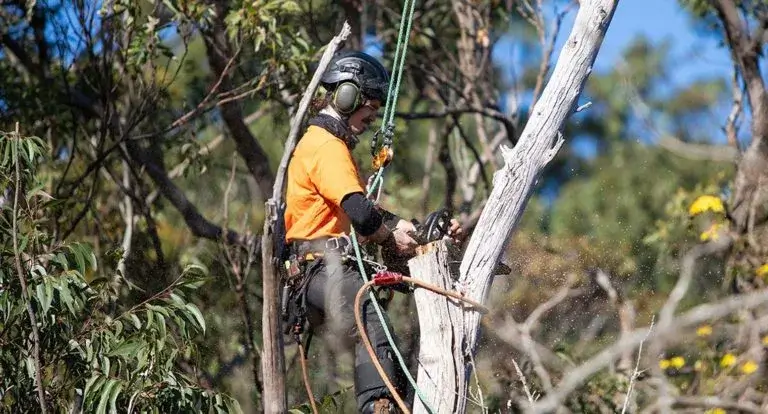 PROFESSIONAL SYDNEY TREE PRUNING
24/7 Emergency Tree Removal Services - We're The Experts To Call.
Contact us To Remove Any Type of Tree Right Away!
There's quite a lot that comes with owning a tree or simply living in a property that has trees around. For the average property owner, it can be challenging to know how and why tree pruning is essential for your tree. Besides the obvious reasons such as to improve the tree's appearance, it can be hard to see why tree pruning or garden pruning is necessary.
Providing the right quality care for your tree doesn't just depend on the environment you live in and the type of tree you have, but it also depends on the type of tree pruning service that you provide. Basically, tree pruning services including such as hedge trimming, shrub pruning, and garden pruning should be done by a certified and experienced arborist.
At Trees Down Under, we fully understand that tree pruning or tree trimming is part art and part science. While the science part can be learned, the artistry portion is a competency that requires many years of dedication, professionalism, and experience. This is precisely what we bring to the table for Sydney residents looking for inexpensive tree pruning services.
We're ready to assist with all your tree requirements
What Other People Are Saying About Us
52 reviews on
Darryl Dunger
2. June, 2023.
Joseph and his team performed an amazing job. The tree I had removed was a giant Sydney Blue Gum (approx. 30 metres tall and the same wide.) the whole team, as well as the crane operators, worked in unison and accomplished the goal with great skill. The Quote for the job was very reasonable considering the tree location. I would have no hesitation in recommending Trees Down Under. Once again, thank you Joseph.
Brad Cook
16. March, 2023.
Great service, they know their craft and they are a great bunch of professional guys. We will be using them again. Thank you Joseph
Dontbakdown60
22. February, 2023.
These guys are the best. Great job removing three palms. Excellent communication during the job and great clean up after completion. Highly recommended for all tree issues.🙂
Eternal Cleaning
16. February, 2023.
Extremely happy the service Joseph provided. Would highly recommend them. Job well done guys
Amir Ashrafy
13. February, 2023.
Very professional and on time servic. Amir
When is the Best Time to Prune Trees?
For some reason, many tree owners believe that pruning all kinds of trees is possible at any time of the year. While it is true that tree pruning should be done as a maintenance check, every type of tree has unique structures and biology. Thus, you must know when is the best time to do pruning to ensure your trees keep an aesthetic and robust construction.
Why Not During the Fall?
Fall is not the best time to prune your trees since they will prepare for winter dormancy. When its bright leaves begin to fall, the tree absorbs the good stuff from the leaves to store for the cold season. 
That's why professional arborists advise against going reckless and simply cutting away the iffy branches. If you have no good reason to prune them in the fall, then don't. 
Generally, the best time to do tree pruning is when the tree shows signs of active growth or is entirely dormant. Moreover, qualified arborists such as Trees Down Under specialize in pruning all sorts of trees year-round with minimal damage. It is essential to know that every kind of tree should be pruned at different times to promote their growth.
Learning about your tree and its needs to stay healthy can add a lot of value in ensuring safety and a lush and lively appearance.
When to Prune, By Tree Type
Pruning your trees to remove weak, infested, or dead branches and foliage can be accomplished year-round with little effect on the tree. However, as a rule, pruners and tree owners should know that growth and wound closure are optimised if the tree is pruned right before the spring growth spurt, during the late winter seasons. 
Additionally, tree wounds caused by pruning can become access points for diseases such as oak wilt for oak trees. Only cut the branches if you think they should be pruned, as they could pose hazards or affect growth. Also, strive for branch collar cuts, as this proper pruning method can improve healing.
Here are common types of trees and the best time to prune them:
1. Deciduous
Deciduous trees are known to shed their leaves once every year. The term specifically means "to fall off at maturity" or "tend to fall off." Because of this behaviour, deciduous trees should be pruned in late fall up to winter. 
Since deciduous trees have fully entered the dormant season in this period, it becomes easy for arborists to see their branch framework. 
A better look at the branches can help identify sections that need pruning. Furthermore, the activity of insects and diseases are significantly reduced during the dormant season since there are no leaves and flowers to feed on, propagate with, and infest. 
2. Young trees
Trees are mainly known to adapt to any training, especially while they are young. Maintaining a proper pruning will guarantee a well-shaped and robust tree, especially for urban and residential landscapes. 
As they grow older, trees that are appropriately pruned will need less excessive trimming. To achieve the desired shapes and forms such as higher branches or broader foliage, let Trees Down Under prune the trees for you. Our tree experts know everything about trees and are confident in giving you the best results and much-wanted peace of mind.
3. Subtropic
Trees located in subtropical regions experience a different growing environment. Because of this, they are continually replacing lost tissues with abundant sunlight and water sources for the whole year.
For subtropic trees, it is possible to trim and prune them year-round. However, you cannot prune large limbs and branches off the tree daily.  For any tree and season, you should not cut off more than 30 per cent of live tissue or foliage. If a pruning cut removes a giant limb that carries around 30 per cent of all the leaves, then you are done for that season.
4. Flowering Trees
Most flowering trees should be pruned after blooming. Moreover, pruning any dead and dying branches can be done routinely or at any time. 
On the other hand, a flowering tree can have unique needs and specific rules in pruning. That's why it is best to consult an expert arborist such as Trees Down Under to ensure your flowering tree gets what it needs.
Regardless of your type of tree, here are tips you could use if you consider pruning them:
Observe routine pruning annually
Make sure to prune right after the branch collar section
Large limbs equal large wounds, making them more difficult to seal and more open for diseases and insects. Do not wait until the branches get large enough.
Avoid topping or chopping the tops off trees, as this badly hurts them.
Regularly pruning your trees throughout their lifespan will help keep them healthy and aesthetically pleasing for your landscape. It is important to remember that we must prune our trees at the pace they want us to. 
Why Choose Us for Tree Pruning?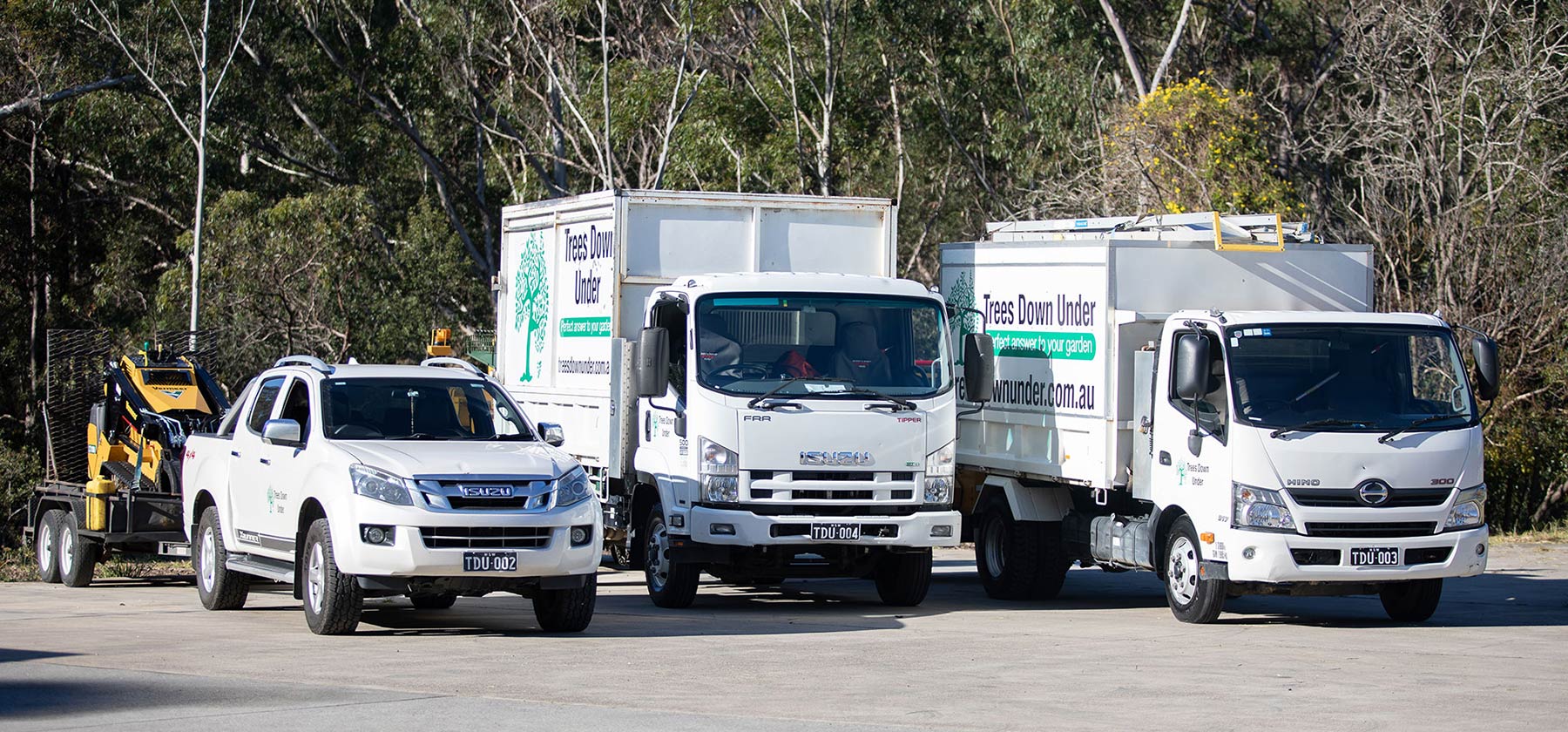 As professional and certified arborists, we are tree experts who can help you maintain and keep your outdoor space clean and beautiful. There are a number of reasons to choose us as your tree experts in Sydney.
We are Tree Experts
What type of trees do you have? What's the overall health of your tree? Are they in the way of electrical wires? Whether you are looking to prune your trees for safety reasons or to enhance their health and development, our team are tree experts who know everything about trees.
With our experienced and skilled team, you can rest assured that your trees will be in good and capable hands. While you can choose to prune your trees by yourself, opting for our tree pruning services will give you much-needed peace of mind.
Making Your Trees Stronger – Again, there are a lot of details that go into tree pruning. As professionals, we pay a lot of attention to these details and ensure that your trees are properly pruned. We not only use the right types of tools but also apply particular trimming and pruning methods and techniques that will make your trees stronger, healthier, and able to endure harsh weather conditions.
Making Your Trees Safer – We use particular trimming and pruning methods to discard perilous branches safely. We know that dead branches can easily fall, particularly during storms. This makes them hazardous to you, your loved ones, your house, and the electrical lines. Obviously, removing them yourself is not the best move.
We are Certified Arborists
As a company, we work with a team of well-trained, highly experienced, and certified arborists. Professionalism is our second name and we strictly adhere to safety standards. Our wide range of equipment can handle both small and large tree pruning services.
We are a Local Family Business
Based in Dural, Sydney, we pride ourselves as a local tree service company at the forefront of keeping the general environment clean and sustainable. We are fully aware that trees play a crucial role in this process.
Our highly experienced team understands the Sydney soil and the different environmental conditions of the area. This enables us to take good care of your trees and even your thin foliage.
Our Sydney Tree Pruning Services are Affordable
As the Sydney arborist industry leader, we believe that tree pruning services should be affordable and pocket-friendly to all Sydney residents. There's no reason why tree pruning should be expensive. If anything, tree pruning is no longer as tough a job as it once was.
While trees have several benefits in our homes, an outgrowth of trees and thin foliage can threaten everything around them. This is essentially one of the main reasons why tree pruning is important.
At Trees Down Under, we can get rid of these threats and risks by providing tree pruning services in the most effective manner possible.
Call us for All Your Tree Pruning Needs
Trees Down Under can prune your trees in many ways, including elevating the lower limbs, promoting light and wind filtration, eliminating weight of tree limbs to prevent splitting or limb failure, thinning out foliage to increase visibility, shaping hedges or shrubs that improve the look of your property and avoiding overgrowth which is potentially damaging to yours or someone else's property.
Call us on 0475 463 597 and we will contact you immediately with a free estimate. Let us offer you the perfect answer to your garden.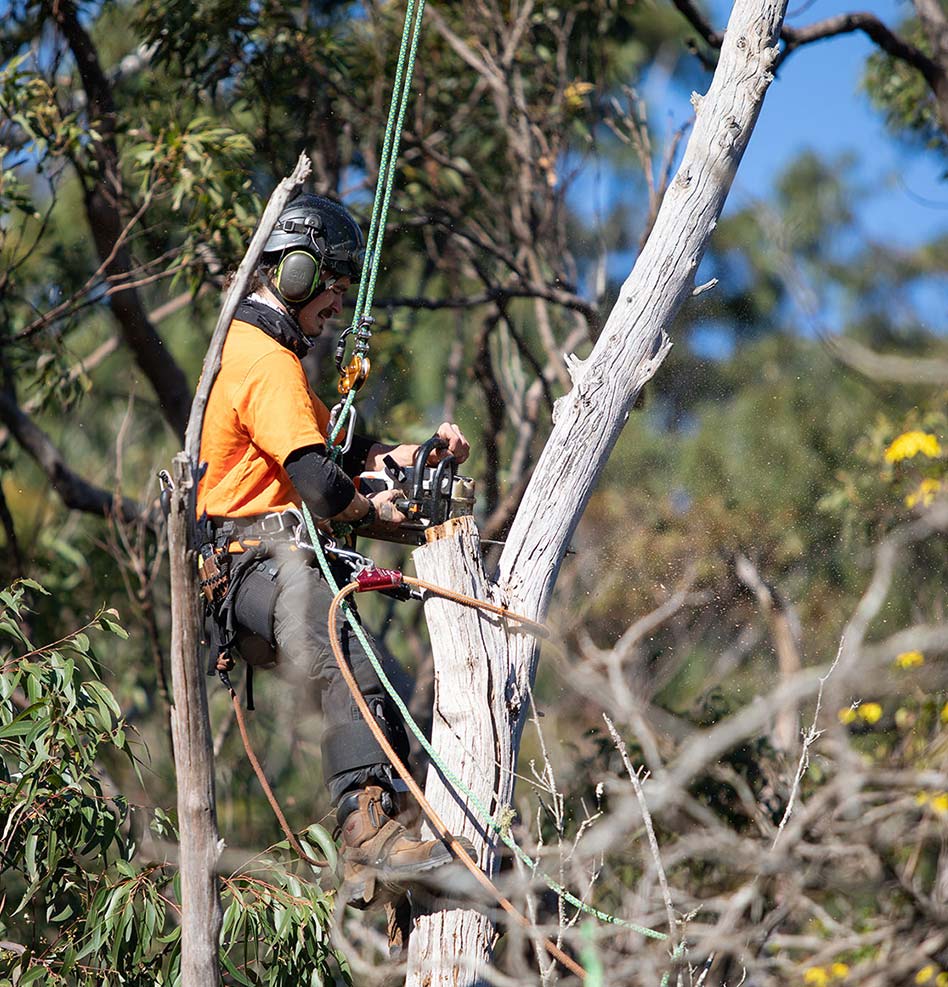 Areas we service: all Sydney metropolitan
Upper & Lower North Shore | Eastern Suburbs | Inner city | Inner West | Northern suburbs | Hills district | Ryde
Benefits Of Tree Pruning Services
Do you need tree pruning? Well, let's try to put it in the simplest words for you to understand. Trees are living things, and they require proper care and maintenance. You can compare the growth of the trees to your hair. If you don't get groomed (haircut and all), you will have a wild and unkempt look. Your hair growth and health will also be compromised.
The same applies to tree pruning services and the role they play.
1. Great For Tree Health
Pruning allows us to get rid of the damaged parts of the trees. These parts can range from simple leaves to a complete branch. You might think that letting the tree grow naturally is fine, but that's usually not the case.
We can help weed out the weak parts of the tree and provide better air circulation. As a result, the tree can have better sunlight and also reduce the risk of pest infestation, diseases, and other issues.
Tree pruning is a critical aspect of tree care and maintenance, offering a wide range of benefits for both your trees and your property. Here are the compelling reasons why you need tree pruning services:
2. It Is Safer For You
If you leave the tree to grow as it deems fit, you can end up damaging your land or even turning it uglier. The tree could harm other trees and plants, or the other green buddies can do the same with your tree.
More importantly, when a tree grows freely, it can break through intrusions, including your walls and such. Sometimes, if the tree becomes too big, it can be riskier to remove it as it might cause property damage.
If you want to avoid all these issues, then getting top-notch tree pruning services would be ideal for you. When you hire a tree pruning Sydney, you're practising your best caution. Moreover, you also eliminate unnecessary risks like tree falling.
3. The Benefits For You
As tree pruning near me provides you with the best look for your trees, you get better visual appeal. Indirectly, it improves the value of your property. And it also looks great from the outside. Your tree will also provide better air quality from healthier growth.
Moreover, pruning reduces wind resistance, and if you live in a windy or storm-prone area, then lower wind resistance is essential for the trees to last longer. Trees can also catch diseases that can be bad for your immediate environment. So, you're also boosting your health.
Other Benefits (Extra Perks)
Tree pruning services near me have a direct impact on the sunlight and vegetation of your tree. You will have better grass, flowers, and even better fruit production (if you have such trees). You also improve the structural stability of the tree and make a positive impact towards the well-being of the environment.
Our Process Of Tree Pruning
Trees Down Under is a team full of highly qualified and experienced experts and arborists in the field. So, when you hire us for tree pruning services, you can expect full-scale work. Our systematic approach enables us to:
Pay you a visit and conduct an inspection of the trees, plants, bushes, and other structures on your property to provide you with honest insights.
We discuss the pruning objectives with you, from canopy thinning to deadwood removal. Even if you need specific shaping or just land clearing, we will provide our assistance.
We also make sure that you understand that we are licensed and insured. After discussing the plans and safety measures, we will only begin when you give us approval.
Additional Tree Pruning Services
There are many different types of tree-pruning processes. The tree pruning cost can also vary, depending on what you might ask us to do. Here's a quick insight:
Selective Pruning: This is when you ask us to selectively prune trees and branches to meet the specific goals for the aesthetic or the health of the plant/tree in question.
Precision Cuts: We employ the precision cut technique to ensure the most accurate results in almost all tree pruning in Sydney. It avoids tearing and bark stripping for your beloved green buddies.
Clean Up: We also offer green-waste removal services after completing the pruning process. Therefore, we leave your place cleaner and more pleasant than it was when we first came.
Post-Pruning Services: We also offer post-pruning inspections, extra pruning, or assessment of the tree's health and well-being.
If you need recommendations, tips and advice, we also offer that, and there's no extra tree pruning cost for such consultations.
Tree Pruning Vs Tree Removal – What Is Right For You?
Tree pruning and tree removal are two entirely different care practices, but both require an arborist. Here's a quick insight on what you should choose:
You Should Choose Tree Pruning When:
Your objective is the tree's health.
You want to preserve the tree and ensure it always meets safety standards.
You want to upkeep the aesthetics of your properties.
Preserve the structural integrity of the tree and weed out any issues with it, like weak parts, diseases, or infestation.
You Should Choose Tree Removal When:
You want to completely remove the tree from the land (from its roots).
There's no hope for the tree to be preserved, and it needs to be eliminated.
Repurposing of the land or clearing for a new project.
There is a safety risk, and it might fall or cause unnecessary hazards.
Remember that tree pruning is also comparatively cheaper than tree removal in Sydney. We will maintain and uphold the best environmental practices. If you're still confused, you could consult with us, and we will help you come up with the answer.
Cutting Down Tree Pruning Costs For You
At Trees Down Under, we cut down the cost of hiring tree pruning near me by ensuring that we can cater to a wide range of requirements. We also clearly set pruning objectives and even work with the difficult-to-access locations.
Our compliance with local regulations and assistance in getting a permit for you can help you save extra cost, time, and effort. To make sure that you're getting the right tree pruning cost, we also help you decide on other services like waste removal, grinding, etc.
With Trees Down Under, you will have have a competitive pricing and we love to take care of our frequent customers.