Tree Removal Yellow Rock
Removing large and bulky trees is a dangerous task. Never try doing it yourself, as it's not a job for a typical home or property owner.
Seek professional assistance for your tree removal in Yellow Rock from Trees Down Under. We can deal with any tree-related concerns to give you convenience.
Leave your tree care and removal issues to our expert arborists. Our specialty is maintaining and removing trees of all species.
We are a trusted company that works day and night to meet all our client's demands. You can contact us whenever you have trees to take care of in Yellow Rock.
Turn to us, and we ensure outstanding services as quickly as possible.
Tree Removal Services in Yellow Rock
Knowing that you have easy access to premium tree services in Yellow Rock is such a relief. You can simply call Trees Down Under every time tree emergencies get in your way.
We are on standby around the clock. It's our job to take care of any tree-related concerns at the most inopportune time.
Get exceptional tree services in Yellow Rock, such as:
Tree Removal

Crown thinning

Pruning and Pollarding

Landscape Gardening

Lawn and Ground Maintenance

Tree Risk Report

Stump Grinding

Green Waste Removal

Arboricultural Services

And more!
We can eliminate an entire tree, grind a stump, prepare a tree risk report and clean green wastes for you. Our dedicated and professional arborists are always up to take the challenge of tree removal in Yellow Rock.
Our company doesn't make promises. We take action and perform every service with excellence. 
We find the best remedies for your tree-related concerns without any trouble. Speak with our tree experts today!
Same-Day Tree Removal Yellow Rock
Consult the professionals right away whenever you encounter tree emergencies. It's a situation that you may less likely to want to deal with for a longer period.
So, act quickly and get a same-day tree removal service in Yellow Rock. We at Trees Down Under are always willing to assist you during these times.
Make sure to contact us. We guarantee to accommodate your call and provide you with the best tree removal service within the day.
Why Choose Us in Yellow Rock
A reputable tree service company should be reliable, resilient, licensed, and professional.
We at Trees Down Under have all these qualities, making us a top tree care and removal service provider in Yellow Rock.
We understand that every request from our client may be different and that each problem has its distinctive solution. Trust that we can handle your tree service needs in Yellow Rock safely and quickly.
Once you choose us, you can take advantage of our best qualities:
Experience Team of Arborists

Highly Competent Tree Service Company

Fully Insured and Licensed Arborists

Emergency Tree Services

Same-day Tree Removal Services

Free Tree Inspection

Free Estimates

Level 5 Arborists

Competitive Pricing

And more!
Let Trees Down Under make your tree care and removal in Yellow Rock a one-of-a-kind experience. You know that professionals got your back once you hire us for service.
Feel at ease while we take on all the demanding tasks. We follow safety protocols, so you need not worry about such matters.
If you need assistance, make the necessary calls and schedule your tree service in Yellow Rock anytime!
Reliable Tree Removal Across All Blue Mountains Suburbs
No job too difficult. Call Joe for a fast quote today.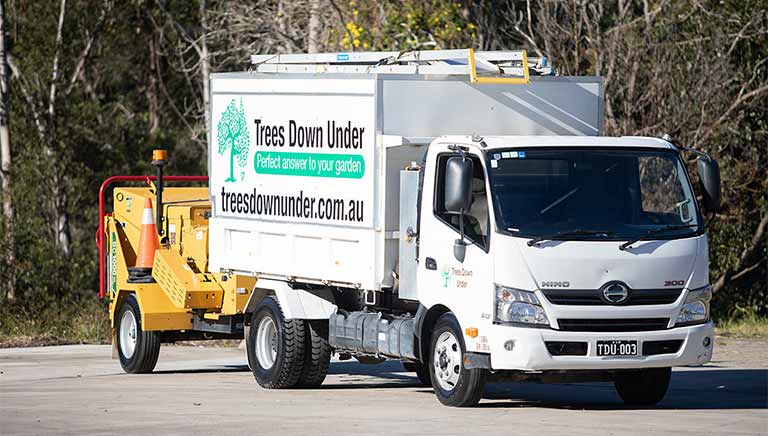 Professional Tree Service that is Safe, Efficient and Affordable. Call Joe Today
What Other People Are Saying About Us
52 reviews on
Darryl Dunger
2. June, 2023.
Joseph and his team performed an amazing job. The tree I had removed was a giant Sydney Blue Gum (approx. 30 metres tall and the same wide.) the whole team, as well as the crane operators, worked in unison and accomplished the goal with great skill. The Quote for the job was very reasonable considering the tree location. I would have no hesitation in recommending Trees Down Under. Once again, thank you Joseph.
Brad Cook
16. March, 2023.
Great service, they know their craft and they are a great bunch of professional guys. We will be using them again. Thank you Joseph
Dontbakdown60
22. February, 2023.
These guys are the best. Great job removing three palms. Excellent communication during the job and great clean up after completion. Highly recommended for all tree issues.🙂
Eternal Cleaning
16. February, 2023.
Extremely happy the service Joseph provided. Would highly recommend them. Job well done guys
Amir Ashrafy
13. February, 2023.
Very professional and on time servic. Amir
Areas we service: all Sydney metropolitan
Upper & Lower North Shore | Eastern Suburbs | Inner city | Inner West | Northern suburbs | Hills district | Ryde