Are you trying to find a certified and insured tree service in Cattai? Look no further because Trees Down Under is available 24/7 to assist you!
Trees may obstruct your property. They could cause danger to your home and family, particularly if they are overhanging, old, or damaged.
Using a tree removal service is one of the best methods to protect your property from the hazards of trees. We suggest reliable remedies to your tree problems as quickly as possible. 
Our expert arborists in Cattai can do any tree removal work. We promise to provide secure aid with top-notch outcomes in order to earn your contentment.
You don't need to be concerned because we can remove trees in Cattai that are either bulky or risky. We work responsibly to make things easier for you. 
We at Trees Down Under can complete any tree-related task quickly. Consider and call us today!
Tree Removal Services Cattai
You should reside in a house free from any mishaps caused by trees. Don't let hazardous trees endanger you, your family and your property. 
You can rely on Trees Down Under for the best tree services in Cattai. We offer the following in your neighbourhood:
Tree Felling

Tree Inspection and Maintenance

Tree Removal

Arboricultural Services

Preparation of Tree Risk Reports

And more!
We inspect, evaluate, prune, or remove any tree following local council guidelines. Our arborists use specialised tools and machinery to complete expert tree services quickly and safely.
Call us whenever you have concerns about removing green waste, stump grinding, or anything else relating to trees. We can even create a thorough arborist report for your building site or private property.
You can trust that our Cattai arborists can manage any job involving trees. We are your best go-to tree care and removal team around the clock!
Same-Day Tree Removal Cattai
Contact Trees Down Under in Cattai for an immediate solution to your tree removal problems. We provide same-day tree services all around the suburb. 
Our equipped crew is ready to deliver the service you require around the clock with just one call. For your convenience, we will show up at the predetermined hour and finish the task in one day.
We have notable experience dealing with different tree difficulties in the Hills District area. You can rely on us to employ specialised methods and equipment to successfully complete any tree removal project in Cattai. 
Why Choose Us in Cattai
There are several good reasons to pick us for your tree removal project in Cattai. To assist you in making the right choice, here's a list of our most remarkable qualities and offerings:
Experienced Tree Removal Company

Highly Skilled and Licensed Arborists

Timely and Convenient Tree Services

24/7 Emergency Tree Service

Competitive Tree Service Fees

Outstanding Tree Service Quality

Free and No Obligation Quote

Safety and Reliability
Trees Down Under doesn't want you to deal with the risks and labour-intensive tree removal process. Our services are focused on helping you resolve any tree-related problems while keeping you safe.
Our team ensures that every task is completed quickly and correctly. To ensure complete customer satisfaction, we strive for the greatest outcomes for every work.
If you have any tree-related issues or an emergency involving a tree, you can always get on the line with us in Cattai. We are available to help you 24/7.
You don't need to go elsewhere to find the right tree care and removal solution. Call Trees Down Under right away to get Cattai's top tree removal service!
Reliable Tree Removal Across All Hills District Suburbs
No job too difficult. Call Joe for a fast quote today.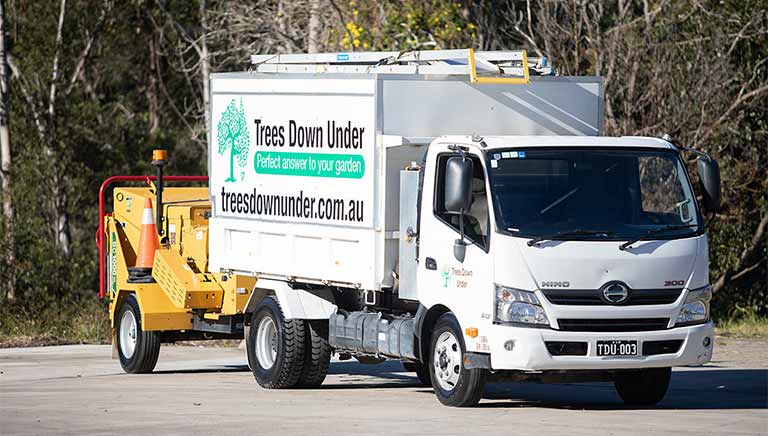 Professional Tree Service that is Safe, Efficient and Affordable. Call Joe Today
What Other People Are Saying About Us
52 reviews on
Darryl Dunger
2. June, 2023.
Joseph and his team performed an amazing job. The tree I had removed was a giant Sydney Blue Gum (approx. 30 metres tall and the same wide.) the whole team, as well as the crane operators, worked in unison and accomplished the goal with great skill. The Quote for the job was very reasonable considering the tree location. I would have no hesitation in recommending Trees Down Under. Once again, thank you Joseph.
Brad Cook
16. March, 2023.
Great service, they know their craft and they are a great bunch of professional guys. We will be using them again. Thank you Joseph
Dontbakdown60
22. February, 2023.
These guys are the best. Great job removing three palms. Excellent communication during the job and great clean up after completion. Highly recommended for all tree issues.🙂
Eternal Cleaning
16. February, 2023.
Extremely happy the service Joseph provided. Would highly recommend them. Job well done guys
Amir Ashrafy
13. February, 2023.
Very professional and on time servic. Amir
Areas we service: all Sydney metropolitan
Upper & Lower North Shore | Eastern Suburbs | Inner city | Inner West | Northern suburbs | Hills district | Ryde