Tree removal is a dangerous job. It needs the appropriate knowledge, abilities, and tools. If you don't have any of them, don't attempt to complete the task.
What you require are qualified arborists at Trees Down Under in Sackville North. Allow our team to handle all the duties.
We have received training in how to handle a variety of tree-related tasks. You may rely on us to provide excellent tree services at your convenience and safety.
Once you work with Trees Down Under in Sackville North, you can tackle hazardous trees without a sweat. We maintain, remove, and prune the trees on your property without causing any hassle.
It makes no difference if you wish to care for storm-damaged, ageing, or dead trees. Our group is constantly prepared to meet the challenge.
Let us take the appropriate action on your behalf and obtain the best solutions to your tree-related problems in Sackville North.
Tree Removal Services Sackville North
The challenges of tree removal are no match for our qualified arborists. We understand your desire to avoid these tiresome chores. As a result, we offer you the top tree maintenance and removal services in Sackville North.
By using us for any of the following tree services, you can trim, remove, and maintain trees without any hassle:
Complete Tree Removal

Arborist Report Preparation

Tree Care and Maintenance

Tree Felling

Grass/hedge Cutting

Arboricultural Services

Green Waste Clear-out

And more!
We respond quickly to meet all of your needs in Sackville North. Once you let us provide the best tree service, you can be safe from the risks.
Keep in mind that when trees break suddenly, they can cause significant damage to your property. Hiring Trees Down Under for tree maintenance and removal services is your best option if you want your property to be secure throughout the year.
You can count on our experienced and dependable arborists in Sackville North whenever you need them!
Same-Day Tree Removal Sackville North
With the same-day tree removal service in Sackville North from Trees Down Under, you can put an end to your tree-related problems right now. We are ready to provide tree services whenever you need them.
We differ from other service providers in our ability to give tree care and removal aid quickly and effectively. All of our customers in Sackville North receive services of our highest calibre.
Our arborists are available around-the-clock, and we guarantee to provide tree services as soon as possible!
Why Choose Us in Sackville North
Delivering top-quality tree services is a priority for Trees Down Under. Our local staff can assist you anytime and solve your issues.
With our skilled arborists, you may easily get rid of obstinate stumps, hazardous trees, green cost, and deadwood.
You can gain the following advantages by hiring us:
24/7 Emergency Tree Service

Dependable and Courteous Staff

On-time and Reliable Arborists Team

Comprehensive Tree Risk Reports

Safe and Efficient Tree Services

Licensed Arborists Team at Your Service

Upfront Service Rates

Free Estimates with No Hidden Charges

And more!
At Trees Down Under, we work quickly and effectively to address your tree-related problems. We have a highly skilled team that can remove all hazardous and unwanted trees on your property, so you won't have to deal with them for very long.
To safeguard your entire property against tree emergencies, let us maintain, prune, trim, and remove trees. You can depend on us anytime as one of the top tree service providers in Sackville North.
Don't be reluctant to use our expert tree service. We're available 24/7!
Reliable Tree Removal Across All Hills District Suburbs
No job too difficult. Call Joe for a fast quote today.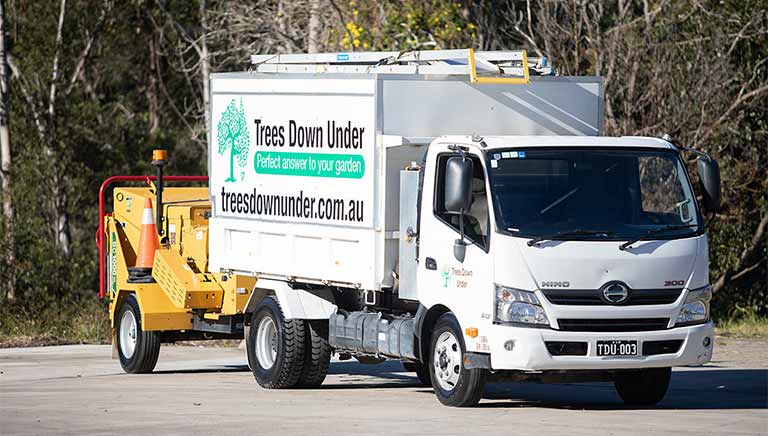 Professional Tree Service that is Safe, Efficient and Affordable. Call Joe Today
What Other People Are Saying About Us
52 reviews on
Darryl Dunger
2. June, 2023.
Joseph and his team performed an amazing job. The tree I had removed was a giant Sydney Blue Gum (approx. 30 metres tall and the same wide.) the whole team, as well as the crane operators, worked in unison and accomplished the goal with great skill. The Quote for the job was very reasonable considering the tree location. I would have no hesitation in recommending Trees Down Under. Once again, thank you Joseph.
Brad Cook
16. March, 2023.
Great service, they know their craft and they are a great bunch of professional guys. We will be using them again. Thank you Joseph
Dontbakdown60
22. February, 2023.
These guys are the best. Great job removing three palms. Excellent communication during the job and great clean up after completion. Highly recommended for all tree issues.🙂
Eternal Cleaning
16. February, 2023.
Extremely happy the service Joseph provided. Would highly recommend them. Job well done guys
Amir Ashrafy
13. February, 2023.
Very professional and on time servic. Amir
Areas we service: all Sydney metropolitan
Upper & Lower North Shore | Eastern Suburbs | Inner city | Inner West | Northern suburbs | Hills district | Ryde