A NEW LAWN TO SUIT YOUR NEEDS
Turf for your home's garden is a more important decision than many realise. There are many factors which go into selecting the type of turf for your land. Our experienced turfing specialists can advise you through the process.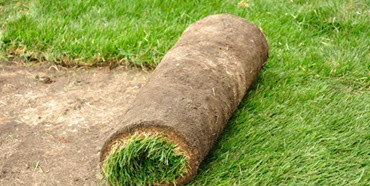 Having a healthy new turf is one of the most important components of any landscape. It not only provides excellent outdoor living space for you and your family but it can also beautify the entire neighbourhood. A gorgeous new turf can also create a superb backdrop for every feature that your property or landscape has on offer. Scientifically speaking, having a great new turf is essential in purifying water, controlling soil erosion, producing clean oxygen, and improving air quality. These are just some of the benefits that we at Trees Down Under bring to your property and landscape with our new turf services.
At Trees Down Under, we take immense pride in offering our clients the best new turf. No matter where you live in Sydney, we can help you have a vigorous, opulent lawn growing at your home or commercial space. Through our new turf services, we can instantly add an element of beauty to your property, enhance its value, and transform it into something superb.
So if you're having problems with your existing turf or just looking for a completely new lawn, you've come to the right place. Whether it's about repairing a small part of your lawn or redoing an entirely new lawn, no job is too small or too big for us!
Here are some of the services that we offer in line with our new turf solutions.
Core Aeration
Aerating is essentially the process of removing cores to improve soil structure and ensure that it easily uptakes water and nutrients. Given our skills and experience, we fully understand that there are a lot of benefits to aerating. However, the main benefit of soil aeration is to reduce soil compaction and make the underneath of your new turf studded with air pockets to ensure sufficient oxygen circulation.
This is essential on a new turf as it helps the turf remove thatch or any form of organic matter that may make it susceptible to diseases, insects and a whole load of unwanted issues. At Trees Down Under, we know that there is a beehive of activities going on down there and soil aeration is more than essential in making your new turf beautiful and the best in the neighbourhood.
Weed Management
Having a thick, dynamic, and vigorous lawn is one of the best ways of preventing your new turf against weed invasion. This is because a dense turf can successfully and perfectly compete with weed seedlings for water, light, oxygen and other nutrients. While this is essential, we do believe that it's important to control the weeds.
At Trees Down Under, we use environmentally-friendly products that adhere to the regulations in place to manage weed on your turf. In essence, we have the skills, experience, and equipment to help you manage your new turf so that weeds become the least of your concerns and to make your turf safer for you and your family.
Over Seeding
This is basically the introduction of new seed to existing turf. Do you have spots on your turf that need some repair? Well, we have a solution. Through overseeding, we can repair these bare spots, improve the density of your turf, and use various grass varieties to enhance not just the colour of your lawn but also its ability to resist diseases and natural elements.
This process can be fundamental if your lawn is looking weak and tired. We can use the best overseeding methods in combination with proper fertiliser and water to significantly improve the look and health of your turf.
Ensuring Fertility of Your New Turf
Our work generally does not end by laying down your new turf. It goes further than that. We believe in ensuring that your new turf looks its best at all times. This is why we offer a well-managed fertiliser program. We have some of the best fertiliser programs that fit individual landscapes to ensure that your lawn gets the nutrients needed to withstand heat, as well as diseases and insects.
Are you looking for highly-qualified and experienced professionals to lay your new turf in Sydney? Trees Down Under can help with your landscaping services. Whether you are looking for hydro-seeding, soft landscaping, sports field renovations or the general lawn maintenance, we have the skills, experience, equipment, and all it takes to make your new turf.
Call us today 0475 463 597 and we will give you the perfect answer to your garden.
Trees Down Under provides a complete turf selection, turf supply and turf laying process. We can also provide regular maintenance of your lawn.