When you have trees within your property in Willoughby, you may have to deal with tree-related emergencies at some point. Such vegetation may add a natural vibe to your landscape but also cause you considerable trouble.
A dead tree may break and fall, leading to injuries and structural damage. When storms or heavy winds strike, you may face various tree-related issues if you fail to keep your trees in good condition.
Remove dangerous trees from your property through the professional tree service of Trees Down Under in Willoughby. We can help you eliminate unwanted trees, deadwood, overgrown tree branches and green wastes.
Our local expert arborists ensure safety when dealing with trees. You never have to worry, as we are here in Willoughby to take care of various tree care and removal jobs.
We can back you up during tree emergencies and immediately perform your needed service. Remember to contact us when trees hamper your day.
Tree Services Willoughby
At Trees Down Under, we offer exceptional tree care and removal services. You can easily solve your tree-related problems once you hire our team in Willoughby.
We can get rid of tree stumps, branches, deadwood, and an entire tree using the most reliable tools. Our team ensures to keep your landscape well-maintained through our routine tree maintenance.
You can seek help from us if you need a comprehensive arborist report of your trees' condition. We recommend the best ways to deal with tree-related issues in Willoughby.
Our expert arborists do not only remove trees but keep them in good condition through trimming, pruning, and maintenance.
Trust that we can perform all the tasks you throw at us without trouble. Besides, we clean up after ourselves and won't leave any green waste behind.
You can expect a safe and clean property once we have completed your tree care and removal service. Turn to us anytime and solve your tree-related concerns in Willoughby professionally and safely.
Same-Day Tree Removal Willoughby
No one can beat us in delivering the fastest and most reliable tree removal service in Willoughby. We offer same-day services to cater to your needs within the day.
Our local arborists take immediate action and find effective ways to fix your tree-related emergencies. We can handle any tree removal situation safely and quickly.
You never have to stress yourself over dangerous trees any longer as we at Trees Down Under can take responsibility for all the tasks.
We can travel to your place promptly and render same-day tree removal service as necessary.
Why Choose Us in Willoughby
We at Trees Down Under guarantee to make you feel at ease with our tree care and removal services in Willoughby. You can count on our well-equipped arborists during the toughest times.
Our company provides the most efficient tree removal solutions to solve your varying issues. Hiring us means you can take advantage of the following:
Licensed Tree Removal Team

Well-trained and Reliable Team of Arborists

24/7 Response to Tree Emergencies

Safe and Effective Tree Removal Solutions

Level 5 Arborists at Your Service

Reasonable and Upfront Tree Service Rates

Free Inspection and Quotes

And more!
All these and more when you hire Trees Down Under for your tree care and removal needs in Willoughby.
Our team delivers tree services following environmental and safety protocols. Rest assured that we only employ licensed arborists to handle various tree care and removal jobs.
You can contact our local expert team anytime and book a professional tree service in Willoughby.
We at Trees Down Under are on-call at 0475 463 597. Contact us today!
Reliable Tree Removal Across All North Shore Suburbs
No job too difficult. Call Joe for a fast quote today.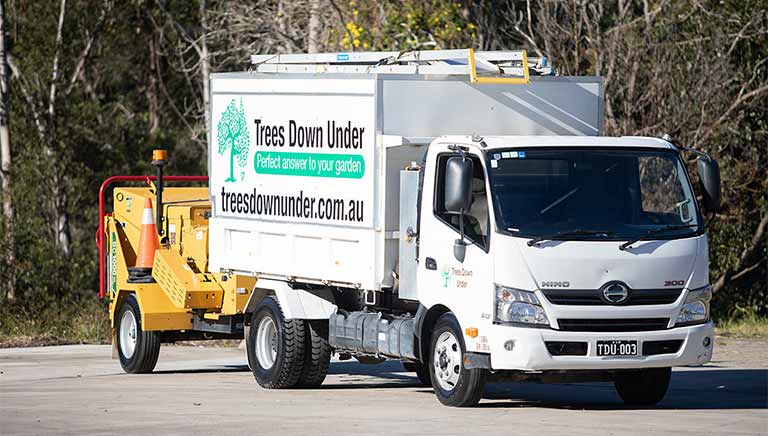 Professional Tree Service that is Safe, Efficient and Affordable. Call Joe Today
What Other People Are Saying About Us
52 reviews on
Darryl Dunger
2. June, 2023.
Joseph and his team performed an amazing job. The tree I had removed was a giant Sydney Blue Gum (approx. 30 metres tall and the same wide.) the whole team, as well as the crane operators, worked in unison and accomplished the goal with great skill. The Quote for the job was very reasonable considering the tree location. I would have no hesitation in recommending Trees Down Under. Once again, thank you Joseph.
Brad Cook
16. March, 2023.
Great service, they know their craft and they are a great bunch of professional guys. We will be using them again. Thank you Joseph
Dontbakdown60
22. February, 2023.
These guys are the best. Great job removing three palms. Excellent communication during the job and great clean up after completion. Highly recommended for all tree issues.🙂
Eternal Cleaning
16. February, 2023.
Extremely happy the service Joseph provided. Would highly recommend them. Job well done guys
Amir Ashrafy
13. February, 2023.
Very professional and on time servic. Amir
Areas we service: all Sydney metropolitan
Upper & Lower North Shore | Eastern Suburbs | Inner city | Inner West | Northern suburbs | Hills district | Ryde