Tree Removal Turramurra
You've probably been thinking of how to solve your landscape problem. Imagine that tree in your compound that has overgrown your compound and its roots and branches are now destroying your property. 
At Trees Down Under, we offer the best tree and landscape services to all Turramurra residents. We handle all tree lopping, gardening maintenance, turfing and garden waste removal at cost-effective rates.
As a resident of Turramurra, you certainly want your landscape to look great and impeccable at all times. That's exactly what we do at Trees Down Under. In addition to making your landscape more appealing, we are here to help you deal with the challenges you have been facing with your trees and gardens.
No matter the landscape challenge you've been facing, our highly experienced and skilled experts are here to help you deal with these issues. From tree removal, and cleaning up composting green waste in your backyard to removing overgrown trees creeping into your property, we are the best tree and garden company in Turramurra.
With that in mind, it's time to get to work and become your landscape superhero. It's time to ensure that your family, friends, and neighbours are safe and surrounded by a superb and perfectly manicured landscape. You'll only attain all these if you choose Trees Down Under to take care of your trees and garden.
Our Tree Services
Generally, we will send our highly-skilled arborists to inspect your trees and the general landscape. This is to ensure that we come up with the best solution for your trees and landscape. By doing that, we will come up with suitable solutions for your situation. That's essentially why we are open to offering any kind of service that you require and within our scope.
Some of the services that we offer include:
Tree lopping
Tree removal
Green waste removal
The list is endless. We, therefore, appeal to you that if you face any of these problems or other related ones feel free to contact us immediately and we guarantee you top-notch tree and garden services in Turramurra. As a leading tree and garden service company in Turramurra, we bring you high quality and competent services that will leave your environment looking excellent, neat, green, and clean.
Experienced Above All Else
Having been in the industry for over a decade, we fully understand that working with expert personnel is a top priority. That's why we work with a professional team that's highly skilled, well-trained and experienced to offer the best tree and garden services.
Modern Equipment
At Trees Down Under, we know the importance of using the most advanced and modern equipment. In addition to offering the best solution and making work easier, having the most advanced equipment enable us to offer our services as fast as possible without compromising quality.
When you hire us to take care of your trees and garden, rest assured that you'll be dealing with highly experienced professionals using the most advanced equipment. In essence, this combination enables us to offer the best garden and tree services to all residents in Turramurra.
24 Hour Emergency Tree Services
Anything can happen within your property that may call for emergency tree services. Whether it's a tree that has fallen as a result of a storm or a stump that needs to be removed immediately, we can handle such emergency services. At Trees Down Under, we take emergencies quite serious and we'll respond immediately.
Being the professionals that we are, we can proudly affirm that you will never regret working with us. The level of detail and passion that we put in the services that we offer will always guarantee you quality services.
Times are hard and we do not want to make it harder for our customers in Turramurra. That's essentially why we offer the most affordable tree and garden services in Turramurra and beyond. When you hire us, we will offer you a free, no-obligation estimate.
At Trees Down Under, we are here to ensure that all Turramurra residents have the best landscapes. Whether you want your garden trimmed, your trees are taken care of or your garden manicured, you've come to the right place. 
Call us today on 0475 463 597 and let us offer the perfect answer to your garden.
Reliable Tree Removal Across All North Shore Suburbs
No job too difficult. Call Joe for a fast quote today.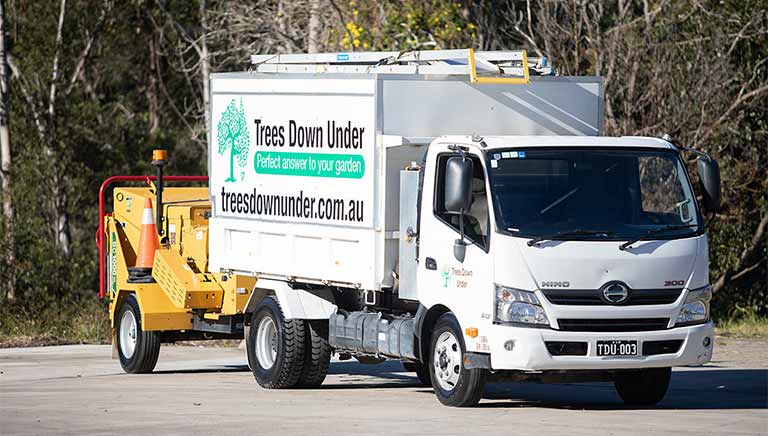 Professional Tree Service that is Safe, Efficient and Affordable. Call Joe Today
What Other People Are Saying About Us
52 reviews on
Darryl Dunger
2. June, 2023.
Joseph and his team performed an amazing job. The tree I had removed was a giant Sydney Blue Gum (approx. 30 metres tall and the same wide.) the whole team, as well as the crane operators, worked in unison and accomplished the goal with great skill. The Quote for the job was very reasonable considering the tree location. I would have no hesitation in recommending Trees Down Under. Once again, thank you Joseph.
Brad Cook
16. March, 2023.
Great service, they know their craft and they are a great bunch of professional guys. We will be using them again. Thank you Joseph
Dontbakdown60
22. February, 2023.
These guys are the best. Great job removing three palms. Excellent communication during the job and great clean up after completion. Highly recommended for all tree issues.🙂
Eternal Cleaning
16. February, 2023.
Extremely happy the service Joseph provided. Would highly recommend them. Job well done guys
Amir Ashrafy
13. February, 2023.
Very professional and on time servic. Amir
Areas we service: all Sydney metropolitan
Upper & Lower North Shore | Eastern Suburbs | Inner city | Inner West | Northern suburbs | Hills district | Ryde