24-Hr Tree Service in Lane Cove West
Each tree is a liability or an asset. Our professional tree risk evaluation can uncover whether or not your tree is a possible problem – perhaps the tree is flawed or diseased. Rather than tree repair, it might be necessary to have the tree removed through a tree cutting process.
Trees Down Under is the name to rely on when it comes to tree removal or pruning in Lane Cove West. We offer full-service tree care for commercial and residential clients all across Sydney. The company was founded in the year 2005. Since then, we have set up an exceptional reputation, and we expect to give our clients complete satisfaction. Our goal is to always offer high-quality service to our valued customers.
So, we are the ideal option if you are looking for tree removal or related services at Lane Cove West. The Trees Down Under team aims to ensure every job gets the attention and care they need. Our team's experience is demonstrated repeatedly within each of our services, offering customers quality and reliable tree services.
Our Tree Services Lane Cove West
Trees Down Under offers a vast range of services for residential, commercial and industrial sectors. Some of the popular services that we offer are:
Tree Removal – Tree removal is something that certainly requires considering and doing right, particularly when a tree is risky to people or property. Here, we have educated and licensed tree loppers that ensure we remove a tree from your property as safely and effectively as possible. If you have rotten trunks or storm-damaged trees, dying or diseased trees, severely cracked or split chests or crotches or even overgrowing trees in Lane Cove West, please give us a call and we will offer a free quote.
Green Waste Removal –  We are committed to meet all your garden waste disposal requirements. As one of the leading companies in Lane Cove West, it offers a vast range of customised commercial rubbish removal services. From parks and farms to golf courses, our experts can help you lessen your disposal costs. We can collect and dispose of old wood and all garden waste.
Stump Grinding – After the tree is cut, a stump is normally left behind. It is important to note that these stumps are homes for beetles, termites and other insects. Our team at Lane Cove West will take care of the challenging task of completely removing the stumps and making sure that they do not regrow, leaving you stress-free, with extra garden space for landscaping or your children's play area. We provide stump grinding services for commercial and residential customers in Lane Cove West and across Sydney.
We are a registered company, insured and cover workers' compensation for its employees. All our qualified workers have Occupational Health & Safety and First Aid Certificates.
To get in touch with us, you can simply call 0475 463 597 or fill out our easy online form.
Reliable Tree Removal Across All North Shore Suburbs
No job too difficult. Call Joe for a fast quote today.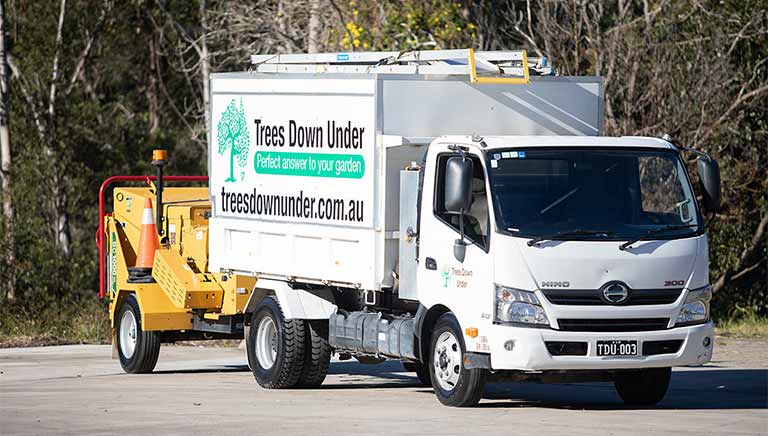 Professional Tree Service that is Safe, Efficient and Affordable. Call Joe Today
What Other People Are Saying About Us
52 reviews on
Darryl Dunger
2. June, 2023.
Joseph and his team performed an amazing job. The tree I had removed was a giant Sydney Blue Gum (approx. 30 metres tall and the same wide.) the whole team, as well as the crane operators, worked in unison and accomplished the goal with great skill. The Quote for the job was very reasonable considering the tree location. I would have no hesitation in recommending Trees Down Under. Once again, thank you Joseph.
Brad Cook
16. March, 2023.
Great service, they know their craft and they are a great bunch of professional guys. We will be using them again. Thank you Joseph
Dontbakdown60
22. February, 2023.
These guys are the best. Great job removing three palms. Excellent communication during the job and great clean up after completion. Highly recommended for all tree issues.🙂
Eternal Cleaning
16. February, 2023.
Extremely happy the service Joseph provided. Would highly recommend them. Job well done guys
Amir Ashrafy
13. February, 2023.
Very professional and on time servic. Amir
Areas we service: all Sydney metropolitan
Upper & Lower North Shore | Eastern Suburbs | Inner city | Inner West | Northern suburbs | Hills district | Ryde