GIVE YOUR GARDEN THE FACELIFT IT TRULY DESERVES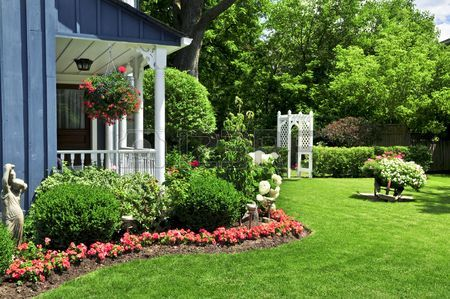 Trees Down Under Pty Ltd strives to offer our designs and expertise to suit to your vision of a beautiful home garden. Let our professionals give your garden the facelift it truly deserves.
We believe every home should not be deprived of a beautiful garden. That's why we are here to help get your garden in shape. We will work around your vision and come up with the best approach to meet your aesthetic desires and budget. If you want a place where you and your family can relax and enjoy, we can help.
Our Residential Garden and Tree Services
At Trees Down Under, we offer year-round residential tree and garden services that adhere to the set standards. We offer not just impressive but also reliable residential garden maintenance and garden services. With our all-inclusive range of garden maintenance and lawn care services, we assure you that we will keep your garden looking fantastic all year round.
From the tiniest of gardens to enormous portions of gardens, Trees Down Under brings to your residential lawn experience and highly-qualified gardeners and arborists. Our experts in North Sydney and the surrounding areas will work closely with you to develop a customised garden maintenance schedule that's perfect for you.
Whether you want us to attend to your gardens on a daily, weekly, fortnightly or monthly basis, you can count on us to offer a schedule that's appropriate for you. Again, we are friendly, reliable, and take immense pride in offering, the most flexible and fully customised residential garden maintenance services that perfectly suit your needs and budget. When you hire us, we will come fully equipped with the latest gardening machinery and up to date tools to ensure that we provide you with the best gardening and tree services in Sydney.
Tree Planting and Surgery
Tree planting and surgery have been a staple of the services that we provide throughout the year since we entered this industry over a decade ago. We are fully qualified, highly experienced, and insured to undertake any tree felling and pruning in Sydney. Our services include tree planting, tree surgery, dismantling, felling, hedge cutting, pruning, stump grinding, cable bracing, air spading, and brushwood chipping.
Having invested heavily in providing these services in Sydney, we are proud that we have earned an excellent reputation from both our residential and commercial clients in Sydney. So whether you're looking to take care of a tree in your garden or do away with it altogether, we are capable of offering you comprehensive tree services that you'll be proud of.
Hedge Cutting, Shrub Trimming and Pruning
A neatly trimmed hedge can hugely improve the look of your garden and home as a whole. If you need to trim or shape your hedges, we promise you that our team of experienced hedge trimmers can provide comprehensive hedge cutting and pruning service in Sydney throughout the year.
Pressure Washing
We can transform the appearance of your garden with our pressure washing services on your patios, pathways, and driveways. We come fully equipped with top of the range pressure cleaning equipment that will perfectly clean your paved surface, tarmac, concrete, and wooden decking. This means that we only use normal water without any damaging chemicals to clean these surfaces.
Our hardworking experts will free your driveways, patios, stairs, decks, private lanes and sidewalks. At the end of our removal services, your landscape will be safe and your driveways passable. Say goodbye to fallen leaves and tree branches on your property.
At Trees Down Under, our main aim is to ensure that all areas of your residential landscape are excellently and professionally maintained throughout the year. When you call for our services, we will offer you a free, no-obligation estimate of our affordable residential services.
Do not hesitate; call us today on 0475 463 597 and we will promptly offer the perfect answer to all your garden needs.
Our residential gardening services are fully catered to your taste and preference. Please contact us to discuss the options available for your garden and we will provide a free quote.